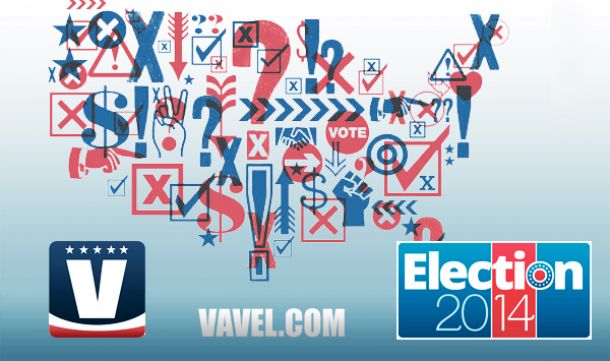 2:00 AM EST: And with that, we bid you adieu. Thanks for joining with us tonight. What a night for conservatives. Goodnight.
1:48 AM EST: With control of the House of Representatives and US Senate, Republicans will be able to take their agenda a step forward, all the way to the desk of the President. Obviously President Obama will not approve of most of the ideas, but the chance to hammer out a few deals is on the table. Historically, some of the greatest national achievements were gained in splits like these, including the Civil Rights Act. In a nation that is dying for some bi-partisanship, now is the time for congress to do just that.
1:45 AM EST: We will be closing up shop here tonight in 15 minutes. Let's just talk some more about what tonight means for the USA.
1:37 AM EST: A few Republicans survived in tough races for reelection to the Governorships of their states. We already mentioned Sam Brownback's stunning comeback in Kansas. Paul LePage also survived after numerous gaffes, as did Nathan Deal in Georgia.
1:26 AM EST: We can't forget the many house seats that Republicans took. Evan Jenkins knocked off 38 year incumbent Nick Rahall in West Virginia, by a substancial margin. Lee Zeldin knocked off embattled Dem. Rep. Timothy Bishop. Other GOP winners in tight races were Elise Stefanik in NY-21, Mike Coffman in COL-06, Carlos Curbelo in FLA-26, Mike Bost in ILLI-12, Mike Bishop in MICH-08, Tom MacArthur in NJ-03, Alex Mooney in WV-02, and Mia Love in UTAH-04. There are many California races that will hopefully be called soon.
1:18 AM EST: Mark Begich is down 50/45 to Republican challenger Dan Sullivan with 25% of the vote in. Good early signs for the GOP in Alaska.
1:07 AM EST: Something to look: Senators Joe Manchin of West Virginia and Angus King of Maine have been rumored to caucus with the Republicans if they took the Senate. If the GOP wins in Alaska and Louisiana, that would bring them to 56 seats. Throw in the wildcard of Virginia, it could be 57, 3 away from the super-majority needed to start repealing most of President Obama's policies. The party has just started for Repubs.
1:00 AM EST: Polls in Alaska are closed. Will Sen. Begich retain, or will Dan Sullivan ride the Republican wave?
12:43 AM EST: Connecticut and Colorado governor races are both showing slight leads for Republicans Tom Foley and Bob Beauprez. That would be two more Governor pickups for the GOP.
12:37 AM EST: It is looking ever more likely that Ed Gillespie will shoot for a recount now against Sen. Mark Warner. This race has utterly shocked the establishment. Right now, Sen. Warner leads by roughly 0.5%. Obviously, had the Republican National Committee known that Gillespie would contend for this seat, they would have spent much more to get it through. It proves that Virginia isn't as liberal as most across the country had thought going into this cycle.
12:35 AM EST: A massive upset in Kansas. We can now confirm that Sam Brownback has retained the Kansas governorship. Potentially, Brownback rode Sen. Pat Roberts' coattails. Kansas will stay ruby red this year.
12:30 AM EST: Ladies and gentlemen, it's been a pleasure. I now turn this over to VAVEL USA's Editor In Chief Ben Anderson.
12:25 AM EST: Democrat Dan Malloy leads Republican Tom Foley by seven votes with 60% in in the Connecticut Governor's Race
12:20 AM EST: For those unaware of the exact count, at the moment the new breakdown in the Senate is 52 Republicans and 45 Democrats with three seats still up in the air.
12:12 AM EST: Continuing our look at interesting stories from this election day, new South Carolina Republican Senator Tim Scott became the first black Senate Republican to be elected in the South.
12:06 AM EST: NBC News now projecting that Republican Larry Hogan has been elected as Governor of Maryland. Vermont look like their gubernatorial election will go to their state legislature. The Democratic incumbent, Peter Shumlin, does not look like he will reach 50% of the vote. In a case such as this, the vote goes to an electoral college system in the state legislature. They will, in all likelihood, choose Shumlin.
12:04 AM EST: NBC News now projecting that Sam Brownback has been reelected as Governor of Kansas.
12:02 AM EST: Minnesota Governor Mark Dayton has been reelected.
11:58 PM EST: With 95% of votes now in, Virginia Democrat Mark Warner is leading Republican Ed Gillespie 49.1%-48.5%.
11:56 PM EST: NBC News is projecting that Rick Scott has defeated Charlie Crist in the Florida Governor's Race while Scott Brown has conceded in New Hampshire.
11:52 PM EST: Tonight is the first time that a governor of the opposite party has been elected in the home state of the sitting president as Republican Bruce Rauner beat Democrat Pat Quinn in Illinois.
11:50 PM EST: Not surprising to hear Ted Cruz sounding emboldened after tonight's results.
11:45 PM EST: John Kitzhaber has been projected as Governor of Oregon.
11:44 PM EST: Today's election results signify a major shift in the political opinions of this country. It will be remarkably interesting to see how the President will handle a completely Republican legislative branch. It's something that only time will tell.
11:42 PM EST: NBC News has called Iowa for Joni Ernst.
11:38 PM EST: As CNN attempts to fill time now, they're just kind of yelling at each other on screen now.
11:35 PM EST: This is a remarkably disappointing day for the Democrats, and a great one for the Republicans.
11:31 PM EST: Fox News has called the North Carolina Senate election for Thom Tillis. THE REPUBLICANS HAVE REGAINED THE MAJORITY IN THE SENATE.
11:27 PM EST: Charlie Crist has conceded the Florida gubernatorial election to Rick Scott.
11:24 PM EST: Warner now ahead by 10,000 votes with 93% reporting in Virginia. Ernst leading Braley by 4% in Iowa, Tillis leading Hagan by 2% with 98% reporting in North Carolina, and Florida is still undecided.
11:20 PM EST: Scott still leading Crist in Florida by a percentage point, still at 97% reporting.
11:15 PM EST: As we continue to bring you thorough election coverage, we're hitting a bit of a lull just waiting for more results to come through.
11:12 PM EST: For the first time ever, we will have 100 women in the House of Representatives. That is quite some milestone. In addition, at 50% reporting, Jodi Ernst now leads Iowa 49%-47%.
11:09 PM EST: CNN has now projected that Republican Incumbent Pat Roberts has been reelected in Kansas. The Republicans now need to pick up just one seat to hold the majority in the Senate.
11:08 PM EST: While Jeanne Shaheen has been projected as the winner, Scott Brown is not conceding the New Hanpshire Senate race yet.
11:06 PM EST: Democratic Governor Jerry Brown has been reelected in California, while Republican governors Susanna Martinez, Matt Mead and Doug Ducey have been elected in New Mexico, Wyoming and Arizona.
11:01 PM EST: Democratic senator Brian Schatz has been elected in Hawaii, Republican Jim Risch has been reelected in Idaho and Democrat Jim Merkely has been reelected in Oregon
11:00 PM EST: We will now have a few more polls closing
10:58 PM EST: Mark Warner leading by nearly 8,000 votes in Virginia with 93% reporting
10:56 PM EST: Milwaukee Journal-Sentinel is now seconding the earlir projection that Wisconsin Governor Scott Walker will be reelected.
10:54 PM EST: Mark Warner still leading Ed Gillespie by 0.1% of the vote in Virginia
10:52 PM EST: CBS News has projected that Pat Roberts will win his race out in Kansas
10:48 PM EST: NBC News has now projected that Wisconsin incumbent Governor Scott Walker has been reelected.
10:47 PM EST: Rick Scott still leading 48%-47% with 97% reporting in Florida.
10:46 PM EST: Bruce Braley leading in Iowa with 30% reporting
10:45 PM EST: CNN now projecting that incumbent Governor Nathan Deal has defeated Jason Carter
10:44 PM EST: Here are your latest results in the Wisconsin gubernatorial race. Currently, Scott Walker leads 57%-41% with 30% of precincts reporting.
10:39 PM EST: As time has gone on tonight, it appears nearly certain that the Republicans will hold a majority in the Senate next year.
10:36 PM EST: Fox News now reporting that Democratic Senator Tom Udall has been reelected in New Mexico.
10:35 PM EST: With 27% reporting out in Wisconsin, Scott Walker leads in Wisconsin 62%-37%. It is far too early to call that one; given those numbers we have yet to hear anything from either Milwaukee or Madison, the two Democrat strongholds in the state.
10:32 PM EST: CBS NEWS NOW PROJECING THAT DAVID PERDUE HAS WON GEORGIA
10:30 PM EST: Still too close to call in Florida and both Georgia races
10:29 PM EST: Tillis still leads in North Carolina by 34,000 votes with 86% reporting
10:29 PM EST: Mark Warner now leads in Virginia by 2500 votes with 92% reporting
10:26 PM ET: Republican Pat Roberts now leading 51%-45% with 44% reporting
10:24 PM EST: Republicans now have 47 confirmed seats to the Democrats confirmed 42 seats. The Republicans now need a net gain of just one seat to gain control of the Senate.
10:23 PM EST: Projection from CNN as Corey Gardner will defeat Mark Udall in Colorado. First time this has happened since 2002.
10:21 PM EST: Maryland's gubernatorial race is close as well where Democrat Anthony Brown leads Republican Larry Hogan 50%-48.6% as 30% is now reporting.
10:18 PM EST: Over in Wisconsin, Republican Governor Scott Walker leading Mary Burke 60%-39% but with only 18% reporting. This is the most intriguing gubernatorial race in the country, and it is far from over.
10:15 PM EST: Thom Tillis leads Kay Hagan by about 35,000 votes with 82% reporting. However, Charlotte has yet to report in. Expect that one to change.
10:12 PM EST: Bruce Braley with an early lead in Iowa, but it doesn't look like his lead is going to be big enough.
10:11 PM EAST: Cory Gardner looking increasingly likely to win Colorado
10:10 PM EST: Pat Roberts now leading 50%-45% in Kansas
10:09 PM EST: Currently, the Georgia races are still early. Atlanta has yet to report anything, and that will likely decide the winner.
10:07 PM EST: In North Carolina, the countey that includes the city of Charlotte has only reported 22% of its vote. While Kay Hagan trails by 2%, she has a LOT of votes still out there.
10:05 PM ET: Thom Tillis leads Kay Hagan in a really tight race, and Gillespie's lead has fallen to less than 8,000 votes with more than 10% of the vote still outstanding.
10:04 PM EST: Rick Scott now leading Charlie Crist by over 86,000 votes with 97% reporting.
10:04 PM EST: Republicans Terry Branstad, Pete Ricketts and Mary Fallin have been elected in Iowa, Nebraska and Oklahoma.
10:00 PM EST: As further polls close, CNN is reporting that Republican Steve Daines will win Montana and Republican Ben Sasse will win Nebraaska. Republican Mike Enzi will win Wyoming and Democrat Al Franken is reelected in Minnesota. Iowa is still too close to call.
10:00 PM EST: Gardner leading Udall 50%-44% with 63% reporting in Colorado
9:58 PM EST: Scott leading Crist 48%-47% with 97% reporting over in Florida now
9:58 PM EST: With 86% reporting, Gillespie leads Warer 49.1%-48.2% over in Virginia
9:57 PM EST: Iowa, Montana, Nevada and Utah polls will close in just three minutes.
9:53 PM EST: Meanwhile, in Wisconsin's gubernatorial race incumbent Scott Walker leads Mary Burke 61%-38% with only 11% reporting in. It is VERY early days there.
9:50 PM EST: We're just 10 minutes away from further poll closures, namely Iowa.
9:48 PM EST: CNN PROJECTION JEANNE SHAHEEN WILL WIN NEW HAMPSHIRE SENATE SEAT.
9:47 PM EST: Currently, Tillis leads in North Carolina by 0.4% of a point.
9:46 PM EST: CNN projects that there will be a runoff election in December for the Louisiana Senate seat between Mary Landrieu and Bill Cassidy
9:45 PM EST: In Georgia, we are still early on. Jimmy Carter's grandson, Jason, trails by about 20% but we aren't done yet. Most Democrat breadbasket areas have yet to report. This race isn't over yet.
9:43 PM EST: Over in Virginia, Fairfax county is only in at 60%. Big potential for Democratic votes in that suburb of the capitol.
9:42 PM EST: Several overwhelming Democratic strongholds have votes they have yet to report, while the rural counties are just about done reporting.
9:42 PM EST: Tillis has taken a 0.1% lead over Hagan with 69% reporting.
9:40 PM EST: Kay Hagan leading by just 9,000 votes in North Carolina. Gillespie leads by just 6,500 votes with 87% reporting. These just continue to tighten.
9:39 PM EST: Roberts and Orman are locked in a dead heat in Kansas, separated by less than 2,000 votes.
9:37 PM EST: Rick Scott's lead in Florida has been cut to just 48%-47% with 97% reporting. Again, Broward County STILL outstanding.
9:35 PM EST: Virginia Update: Gillespie now leads by just 23,500 votes with 84% reporting
9:34 PM EST: Kay Hagan leading by just one percentage point in North Carolina.
9:33 PM EST: In Virginia, Warner has narrowed the gap to just 24,000 votes.
9:32 PM EST: In Colorado, incumbent Democrat Mark Udall trails 52%-43% with 50% reporting.
9:32 PM EST: Greg Orman leading Charlie Crist just 48%-47% with 98% reporting. Broward County still outstanding. Not over there either.
9:28 PM EST: With 81% reporting now in Virginia, Mark Warner has narrowed the deficit to 49%-48%. That one is NOT over folks.
9:28 PM EST: If we continue in the same vein we're going right now, the Republicans will gain control of the Senate.
9:23 PM EST: Checking back over with Florida, Scott leading 49%-46% with 97% reporting. However, Broward County has only reported 22% of their votes, and they are a Democrat stronghold.
9:23 PM EST: Virginia update: Gillespie leading 50%-48% with 81% reporting. Gillespie leads by just over 20,000 votes.
9:22 PM EST: Scott Walker leading 64%-35% in Wisconsin over Mary Burke with 1% reporting in. We are still in the very early stages here.
9:21 PM EST: We're now just starting to hit a bit of a lull here, but we'll have fresh states closing soon.
9:20 PM EST: Greg Orman leading Kansas race 49%-47% with 19% reporting.
9:19 PM EST: With 57% of all precincts reporting, Kay Hagan leads the North Carolina Senate race 50%-47% as well.
9:18 PM EST: With 77% of precincts reporting, Warner has narrowed Gillespie's lead to 50%-47% in Virginia's hotly contested Senate race.
9:16 PM EST: Over in Kansas, Republican Pat Roberts leads Independent by 0.5%v with around 20% of precincts reporting
9:15 PM EST: No surprise coming here as CNN is projecting that the Republicans will maintain control of the House
9:14 PM EST: Meanwhile, over in Florida with 96% of precincts reporting, Governor Rick Scott leads Charlie Crist 48.7%-46.4%
9:12 PM EST: In Virginia, Republican Ed Gillespie is leading Mark Warner 51%-46% with 56% reporting in. Not over yet, but we could have a big shock on the cards.
9:10 PM EST: NBC News has called the New Hampshire race for Jeanne Sheehan
9:08 PM EST: Updates on important Senate races: North Carolina: Kay Hagan (D) 51% Thom Tillis (R) 46% with 53% reporting. New Hampshire: Jeanne Sheehan (D) 53% Scott Brown (R) 47% with 27% reporting.
9:05 PM EST: In terms of Gubernatorial races, Democrats Andrew Cuomo (NY) and Maggie Hassan (NH) have been reelected while Republicans Dennis Daugarrd (SD) and Greg Abbot (TX) have been elected.
9:04 PM EST: Republican Mike Rounds has won in South Dakota, while it is too soon for projections in Kansas, Colorado, and Louisiana. Meanwhile, Democrats Gary Peters wins Michigan, Chris Coons is reelected in Delaware and Republican John Cornyn wins Texas. Republicans need only a net gain of three more seats to gain control of the Senate.
8:53 PM EST: Wisconsin has one of the most interesting races, although it is not a a Senate race. Governor and potential 2016 Presidential candidate Scott Walker has been in a bitter fight with Democratic candidate Mary Burke. Should Walker lose, it would likely spell the end of his presidential ambitions. Expect that one to go late into the night.
8:49 PM EST: Our apologies for the delay there, we were experiencing some brief technical difficulties. At 9:00 PM EST, we will have the polls close in Wisconsin and Louisiana, two really important battle ground states.
8:43 PM EST: It is starting to look like Republican Ed Gillespie may knock off Democrat Mark Warner in Virginia. Gillespie leads 51%-46% with 60% reporting
8:41 PM EST: Here are your latest polls numbers in several critical Senate races: Georgia: David Perdue (R) 61% Michelle Munn 38% (D) 11% reporting. North Carolina: Kay Hagan (D) 52% Thom Hillis (R) 45% with 29% reporting. New Hampshire: Jeanne Shaheen (D) 57% Scott Brown (R) 43% with 15% reporting.
8:38 PM EST: Meanwhile, over in Florida Incumbent Governor Rick Scott leads Charlie Crist 49%-46% with 88% reporting. It is now looking like the Governor will win, although there is stil time for that one to trend back.
8:36 PM EST: The White House is planning to invite bipartisan leadership to come to the White House later this week.
8:35 PM EST: Virginia, New Hampshire and Georgia's Senate Races are still too close to call.
8:33 PM EST: More projectionsin the Senate: Democrat Jack Reed in Rhode Island has retained his seat and Democrat Richard Durbin of Illinois has retained his seat. In addition, Republican Asa Hutchinson has been elected governor in Arkansas.
8:30 PM EST: Arkansas' polls have closed, and CNN is telling us that Republican Tom Cotton will WIN that Senate seat. That is another pickup for the Republicans and they now need a net gain of just FOUR seats to gain control of the Senate.
8:29 PM EST: Interesting factoid from CNN about Arkansas senate candidate Tom Cotton who if elected would be the first senator born after the bicentennial celebration.
8:27 PM EST: Republicans need a net gain of just five more seats in the Senate to gain control.
8:25 PM EST: The winner of Arkansas' intriguing Senate race will soon be revealed, and it could go a long way to determining who is in control of Congress.
8:22 PM EST: Meanwhile, polls in Arkansas will close in just eight minutes.
8:20 PM EST: Scott leading Crist 48%-47% with 82% reporting in Florida now. This one is only getting closer.
8:18 PM EST: Gillespie leading Warner 52%-46% with 38% of the electorate reporting now in Virginia's Senate race.
8:17 PM EST: Should the final difference in Florida be less than 0.5%, we would have an automatic recount. It looks as if we are headed for one.
8:13 PM EST: Rick Scott is now leading in Florida's Gubernatorial Campaign by a margin of 47.9%-47.2% with 74% reporting.
8:12 PM EST: Jeanne Shaheen holding a 56%-44% lead with 10% reporting in New Hampshire. At the moment, she is looking good.
8:10 PM EST: Although we only briefly mentioned it, there was a big shock in the Pennsylvania Governor's Race. Democrat Tom Wolf has defeated the incumbent Republican Governor Tom Corbett. That one could signify a real win for the Democrats as we look at potential swing states in 2016.
8:08 PM EST: Kay Hagan leading 52%-45% with 20% of the electorate reporting in now in the hard-fought North Carolina Senate Race.
8:07 PM EST: Gillespie leading 52%-46% with 34% of the precincts voting. However, Virginia Beach, a Democrat stronghold, has yet to report in. The Republicans shouldn't be calling this one yet.
8:05 PM EST: Virginia, Georgia, New Hampshire and North Carolina's Senate Races are STILL too close to call.
8:03 PM EST: Democrat Tom Wolf has defeated the incumbent governor in Pennsylvania while Bill Haslam and Roger Bentley won in Tennessee and Alabama respectively.
8:00 PM EST: We've got more states with polls closed now, and CNN is projecting that in the Senate races in Mississippi, Alabama, Oklahoma (twice),and Tennessee the Republican incumbents have won. Meanwhile, in Massachusetts Ed Markey holds on to his seat. No big surprises there. Cory Booker has retained his seat in New Jersey. No projections in Illinois, New Hampshire, Delaware or Rhode Island yet.
7:59 PM ET: Just a minute away now from more poll closures, and we should see more projections when that happens.
7:57 PM ET: We are now hearing that in Broward County, Florida all voters who were stuck in line when the polls closed at 7:00 PM EST WILL be allowed to vote, but we still don't know whether the polls will be extended beyond that.
7:55 PM EST: Gillespie leading Warner 53-44 with 20% of the vote reporting in Virginia's hotly contested Senate race.
7:54 PM EST: In just six minutes, polls will close in 16 states.
7:52 PM EST: Only eight minutes away from the next poll closures.
7:50 PM ET: Meanwhile, over in Florida, it is still a dead heat. With 52% reporting, Crist still leads by a margin of 47.8%-47.2%. Really tight down there.
7:48 PM EST: In Virginia, Democrat Mark Warner trails Ed Gillespie 53%-44% with 16% reporting
7:44 PM EST: Jeanne Shaheen leading in New Hampshire right now with 7% reporting. She leads 56%-44%. Still early in that one, and there polls will fully close at 8:00 PM EST.
7:42 PM EST: Mitch McConell who was projected as the winner right after the Kentucky polls close, leads 55%-42% with 34% of precincts reporting. He will easily hold on to his seat, and could well be Senate Majority Leader come the night's end.
7:40 PM EST: Still far too close to call in both Georgia and Virginia. We'll keep bringing you the latest as it happens.
7:39 PM EST: With 40% of the electorate reporting, Democrat Charlie Crist leads incumbent Governor Rick Scott 49.3%-46.1%.
7:37 PM EST:We're still waiting for more to come in here, and we'll have several more battleground state closing at 8:00 PM EST.
7:34 PM EST: Still too close to call in the Georgia and Virginia Senate races.
7:33 PM EST: With 36% of the electorate reporting, Charlie Crist is still leading by a margin of 50%-45%. His appeal to keep the Broward County polls open looks like it will be denied.
7:32 PM EST: CNN Exit Polls reporting a 49%-46% lead for Kay Hagan in North Carolina in that hotly contested race. Meanwhile, in Ohio Republican Incumbent John Kasich has been reelected.
7:30 PM EST: We've now seen more polls close, and CNN is projecting that in West Virginia Shelley Moore Capito has made the first pickup for the Republicans. They now need only a net pickup of five seats to regain the Senate. 34-34 now in the Senate. No more projections forthcoming at the moment.
7:29 PM EST: Just a minute away now from the next poll closures...
7:27 PM EST: Crist leading Scott now 52%-43% with 29% of the electorate reporting in the Florida governor race.
7:26 PM EST: Kay Hagan's campaign in North Carolina say they are feeling good after a massive "get out the vote" effort today, and early voting was skewing towards her there.
7:25 PM EST: Just a reminder for you that the Republicans need a net gain of SIX seats tonight to retake the Senate.
7:24 PM EST: Ohio, West Virginia and North Carolina will all see their polls close at 7:30 PM EST. Only six minutes left.
7:23 PM EST: Just seven minutes away from the next polls closing...
7:23 PM EST: More reports from Florida for you: record turnout was seen today among students at the University of Florida.
7:21 PM EST: With 24% reporting now, Crist leads by a margin of 52%-44%. If they do not get the extension to voting hours tonight, they will find it nearly impossible to win this race.
7:20 PM EST: Broward County latest: we are hearing that polls opened late there after they had problems with their voting machines. Given this new information, they are pushing for a one hour extension to the voting deadline there.
7:18 PM EST: Florida Democratic candidate Charlie Crist's campaign has filed for an emergency voting extension at Broward County where we are hearing that there are still voters waiting in line.
7:17 PM EST: It would be a massive shock if former governor Shaheen lost in that race, and if she loses there it would be a massive boost for the Republicans.
7:15 PM EST: New Hampshire Ward 1 results have Democrat Jeanne Shaheen with 2142 votes to 1857 for Republican Scott Brown in that Senate race. That ward is out of Manchester, New Hampshire.
7:14 PM EST: With 13% of the electorate reporting in the Florida Governor TRace, Democrat Charlie Crist is leading incumbent Republican Rick Scott 60-36. Still very early in that one.
7:10 PM EST: Interesting breakdown from Kentucky looking at McConell's win. Grimes in the lead-up to the election had not even been willing to say who she voted for in the 2012 Presidential Election, and that really hurt her.
7:08 PM EST: To give you an update on the Senate again, with 33 seats still up in the air, the Democrats lead 34-33.
7:05 PM EST: Mitch McConell has won most of the Eastern counties in Kentucky that he lost in 2010. He leads in Kentucky 55-42 % with 10% of precincts reporting. Given those numbers, that is why the race has already been called.
7:05 PM EST: Nikki Haley is reelected in South Carolina. CNN has yet to project Georgia's or Vermont's Governor races.
7:04 PM EST: Virginia Senator (D) Mark Warner leading in CNN's exit polls 50-47%
7:03 PM EST: Lindsey Graham and Tim Scott have won the two Senate races in South Carolina. Democrats currently leading the Senate 34-33.
7:02 PM EST: It's a bit of shock that CNN is calling this one with just 6% of the districts reporting. Meanwhile, the Georgia and Virginia races are too close to call.
7:00 PM EST: Now at 6% reporting, McConnell leads 55%-42% and CNN is already calling the result for the incumbent.
6:59 PM EST - Hello folks, I'm Liam McMahon and I'll be taking over for the next few hours here. Just ONE minute until the the next polls close. We will keep you up to date with the latest news.
6:57 PM EST - We are now less than three minutes from the next poll closure. CNN currently reporting that after one district, her home district, Allison Grimes leads Mitch McConnell by a margin near 20%. We are still very early.
6:48 PM EST - With 27,000 votes in, McConnell's lead has shrunk to 58-39 in Kentucky's Senate race.
6:44 PM EST - There will be several states that have polls closing at 7 PM EST including Virginia, Georgia, South Carolina, Vermont, New Hampshire, and Florida.
6:31 PM EST - McConnell leads 60-38 over Grimes at this point in Kentucky.
6:25 PM EST - Right now, all of Kentucky, except District 3, is Red. Again, that is counting less than 1% of the votes.
6:18 PM EST - With less than 7,000 votes tallied, McConnell leads Grimes 61-37 in the Kentucky Senate race.
6:15 PM EST - Kentucky's 4th and 5th Districts are both leaning Republican in early reporting of votes.
6:12 PM EST - Indiana's 8th District has Democrat Tom Spangler leading 53.7% to 44% with less than a percent reporting.
6:10 PM EST - Make it 66-32 in favor of McConnel with less than 1% of precincts reporting.
6:07 PM EST - And in no surprise, Mitch McConnell has a VERY early lead in the Senate race in Kentucky. He leads 70-28 with less than one percent of precincts reporting.
6:03 PM EST - Indiana and the eastern part of Kentucky polls closed at 6 PM EST. We should have some news shortly about the early results in those two areas.
5:57 PM EST - It is wroth noting that five states - Alaska, Arkansas, Illinois, Nebraska, and South Dakota - all have minimum wage proposals on their ballots. This is yet another hot-topic for constituents in certain areas of the U.S.
4:42 PM EST: Colorado results should be 75% in by the time polls close at 9:00 PM EST. It is all by mail this year in that state, which will help the results to come in faster. This way of doing elections has been lauded by many.
4:20 PM EST: First exit US Midterm Election Day polls will come in about 5:00 PM. We will keep you posted. Keep it right here for up to the minute election results!
4:16 PM EST: Finally, let's think about the gubernatorial races across the nation, potentially the only silver lining for Democrats this afternoon. Charlie Crist, the former Republican governor of Florida turned Independent turned Democrat, is running against incumbent Republican Gov. Rick Scott in the Sunshine State. This one is neck and neck, and a lot of money has been poured into it as well. Rick Snyder in Michigan, Scott Walker in Wisconsin, and Nathan Deal in Georgia are Republicans holding slight leads for reelection, but their races are up for debate. Tom Corbett in Pennsylvania, Paul LePage in Maine, and Sam Brownback in Kansas are GOP incumbents that are underdogs for their bids for reelection. However, Republicans shouldn't be the only ones shaking in their boots in this gubernatorial cycle. Massachusetts may shock the establishment and elect Republican Charlie Baker over unpopular Democrat Martha Coakley. In Maryland, Anthony Brown, the Democrat wanting to replace Martin O'Malley, is struggling to put away Republican Larry Hogan. Finally, the tightest race in the nation, Connecticut, is a rematch between Governor Dannel Malloy and Tom Foley, and could be decided by a fraction of a percentage point. Stay tuned for more info on these matchups.
4:14 PM EST: Through all of the chatter about the senate, we can not forget other interesting races for US House and Governor. For House, West Virginia has surprisingly took a national stage, as 38-year-incumbent Nick Rahall is in his toughest race he's faced against state senator Evan Jenkins. Coal jobs is the leading topic in West Virginia, and as more mines are shutting down, the anti-liberal sentiments are at an all-time high in the state. WV-3 may switch to Jenkins, before the district is likely eliminated in 2020. Another interesting race is to replace Republican Shelley Moore Capito, who will likely win her senate race. Nick Casey was a relatively unknown Democrat, and didn't stand much of a chance. However, the Republicans nominated former Maryland state senator Alex Mooney, who is being painted as a carpetbagger, and has unorthodox opinions on social issues from most Republicans (Side note: Mooney would be the first Latino congressman from West Virginia). The race is very tight. Also, another interesting House race leads us to New York. Democrat Tim Bishop has been embroiled in a few scandals in NY-01, and has nearly lost his reelection bids 2 cycles in a row. This one now leans to the Republican Lee Zeldin, and we will be observing this one.
4:12 PM EST: Kansas: In maybe the wildest state of circumstances in the nation, ruby red Kansas is potentially on the verge of knocking off Republican senator Pat Roberts and putting in a moderate Independent named Greg Orman. Orman is completely split down the middle, someone that has worked on both sides of the aisle, and has attracted many dissatisfied Kansasans wanting some bi-partisanship in Washington. If Orman wins, he could quickly become the most interesting man in politics. Whether he caucuses with Republicans or Democrats in the Senate will tell the tale of who controls the US Senate. Orman is being helped by a sudden anti-conservative movement in Kansas, that will likely knock out their Governor Sam Brownback tonight as well. We will keep you posted.
4:10 PM EST: Georgia: In a traditional red state, the race to replace retiring senator Saxby Chambliss is surprisingly close. Republican David Perdue has a slim lead over Democrat Michelle Nunn, as the state is slowing edging towards liberalism. This will likely be identical to Louisiana, going to a January 6th runoff. If the GOP loses this seat, it would be a big blow to their efforts to incur severe destruction on the Democrats.
4:09 PM EST: There are other states with the potential of a Republican taking a seat, including New Hampshire, where Scott Brown, the former senator from Massachusetts, has made things tight with incumbent Democratic senator Jeanne Shaheen. In North Carolina, the most expensive race of this election cycle (actually, of all time), Democratic senator Kay Hagen has opened up a small lead on Republican Thom Tillis. Depending on how the last minute 'get out the vote' strategies play out, that one could go either way. Some other races have turned into blowouts. Republican Rep. Shelley Moore Capito is expected to blow out Democrat Natalie Tennant in West Virginia to replace retiring senator Jay Rockefeller. South Dakota, Arkansas, and Montana should all see switches from Democrat to Republican. If the Republicans win in New Hampshire or North Carolina, they most certainly will have the majority in the senate. Even if they don't get either, if they make sure to grab Alaska, Louisiana, Iowa, Colorado, West Virginia, Arkansas, South Dakota, and Montana, they would still have a majority, the first four of those being the closest. However, there are two more states that may throw a monkey wrench in the picture. Georgia and Kansas.
4:08 PM EST: Iowa: In the battle to replace retiring Sen. Tom Harkin, the Hawkeye State looks to be swinging back and forth. Joni Ernst, a firey conservative that has captivated the nation, is tussling with Democratic Rep. Bruce Braley. Ernst has had small leads throughout, but yesterday's Quinnipiac poll showed a tie. Voter turnout will decide the election, and with the feelings of GOP favor this midterm election as a whole, Ernst should be a miniscule favorite. However, it could really go either way.
4:06 PM EST: Alaska: This race is on the 'tip of the Kodiak's claw', according to the prestigious UVA Political Center. Sen. Mark Begich is running for reelection in a red state. Alaska broke their record of the most expensive campaign in their history, and almost nationally. Begich's opponent, Dan Sullivan, a marine corp officer, has made this one very tight, as Begich is once again falling under the 'Obama Drag'. Begich is remembered for knocking off longtime Alaska Republican senator Ted Stevens in 2008 by a razor thing margin. That race was won by a little over 3,000 votes, and this one should be just as close. At 1:00 AM EST, we should start getting the first returns.
4:05 PM EST: Louisiana: There is an intriguing Battle in the Bayou playing out down south that may not even be called until a December 6th runoff. Longtime Sen. Mary Landrieu is embroiled in a tough race against Republican Rep. Bill Cassidy. This being an 8 candidate race, there are many smaller candidates siphoning off votes from the favorites. Tea Party favorite Rob Manness is taking 16% of the vote, the majority from Cassidy. However, it is still unlikely that Landrieu gets through tonight, as she has shot herself in the foot many times. Cassidy has painted her as a rubber stamp for the unpopular President Obama. Landrieu has also took heat for some off-color recent remarks on race. Probably the outcome will be simply eliminating Manness and 5 other candidates tonight, pitting Landrieu and Cassidy against each other on December 6th, essentially making this race go to 'overtime'. We will keep you updated.
4:04 PM EST: Colorado: The Centennial State may have the closest race of them all. Incumbent Sen. Mark Udall has low approval ratings, as his positions on social issues have drug him into the cellar. His opponent, Republican Rep. Cory Gardner, has led a positive campaign, focused on energy jobs, such as green energy and natural gas. He has painted Udall as a partisan liberal that has no ability to come across the aisle and hammer out deals. Gardner is the perfect type of conservative to be elected in Colorado, a moderate Republican. He doesn't go out on any limbs, as he tries to keep his campaign neutral on as many topics as possible. He has a 2 point lead according to some of the most prestigious pollsters, but Democrats have usually underperformed in polls in this state. It is more likely to be dead even at 50-50. This one is tight, so stay tuned for all developments.
4:02 PM EST: This is a day to gage the nation's opinion on the job performance of President Barack Obama. His approval ratings have dipped substantially, and Democratic candidates are suffering for it. The 'Obama Drag' is in full effect, and Republicans are trying to pounce on it. With a sturdy hold on the US House, the US Senate is the next goal for the GOP. Colorado, New Hampshire, North Carolina, Georgia, Alaska, Arkansas, West Virginia, Louisiana, South Dakota, and more will decide the fate of the Senate for this cycle. A lot of money has went into all of these campaigns, and most are neck and neck. Let's delve into as many as possible.
4:00 PM EST: Hello and welcome to VAVEL USA's LIVE coverage of the 2014 midterm elections day. Today is the day that people throughout these blessed United States of America head to the polls to cast their vote for the future of this nation. Republicans are looking to make a leap to take over the US Senate, while Democrats are on the defensive. What will happen in this potentially chaotic Election Day? Stay with us for your full outlook as the night progresses. We will be with you until 5:00 AM EST tomorrow, and will provide information from all 50 states. Liam McMahon will lead you until 11:30, while Ben Anderson will guide us through the rest of the night. Let's delve right in!