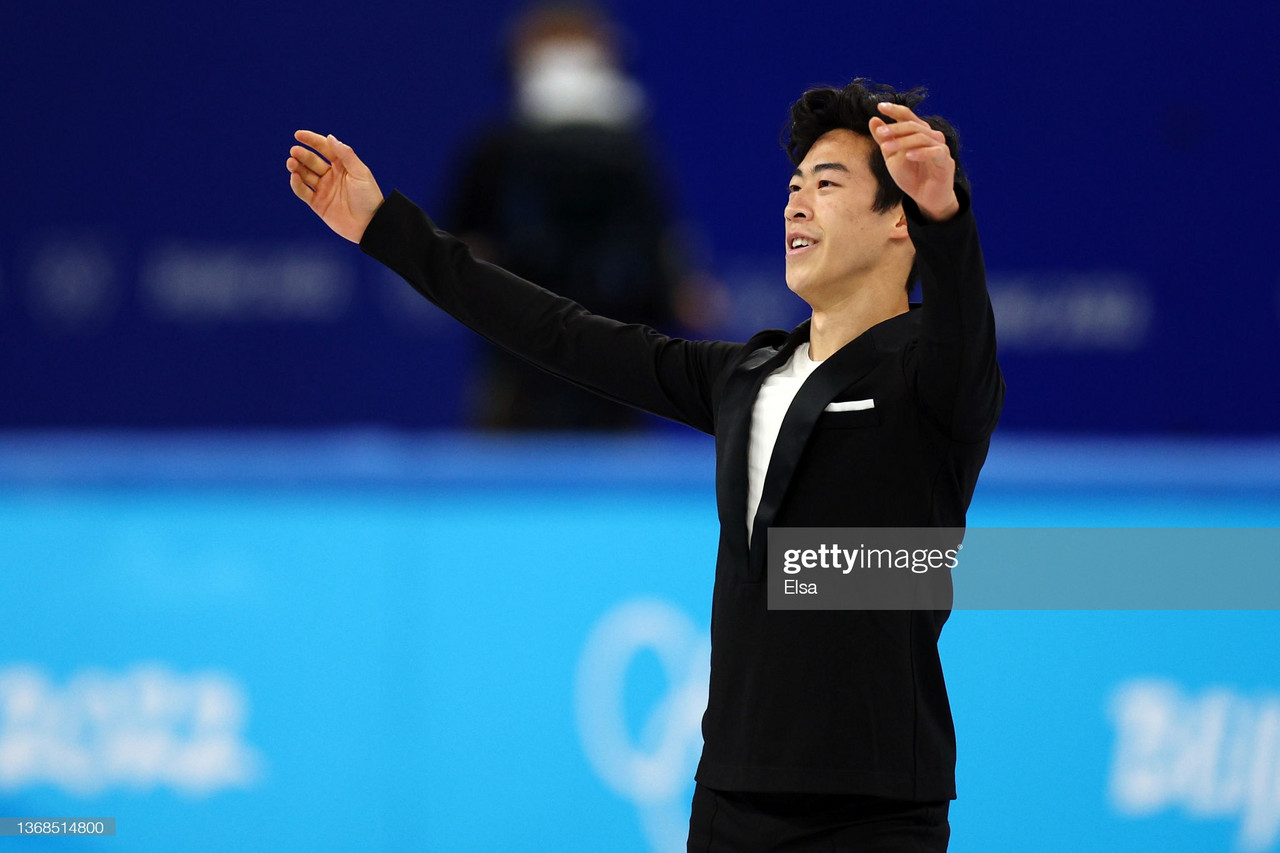 Team USA topped the standings after the first night of the team event in figure skating at the 2022 Winter Olympics thanks to brilliant performances by Nathan Chen as well as ice dancing team Madison Hubbell and Zachary Donohue.

The Russian Olympic Committee, considered the favorites, are the Americans' closest pursuers after strong skates by Mark Kondratiuk and the pairs team of Victoria Sinitsina and Nikita Katsalapov.
In the team event, ten countries compete in each of the four disciplines (men's, women's, pairs, ice dancing) with points awarded according to placement. The top five teams after the short program advance to the free skate.
Chen, Hubbell/Donohue put Americans in the lead
Vowing to atone for his disappointing performance for years ago, Chen came out and dazzled, earning the second-highest short program score in history with 111.71 skating to Charles Aznavour's version of "La Boheme."
"Last Olympics, I was three senior international (tournaments) in, I really hadn't competed internationally", he told NBC reporter Andrea Joyce. "I'm really happy to be here, very excited to be here and surrounded by amazing teammates."
Hubbell and Donohue scored 85.56 to win the rhythmic dance segment, edging Anastasia Mishina and Aleksandr Galliamov, the reigning world champions to put the US on 20 points, three points clear of the ROC at that point.
Alexa Knierim and Brnadon Frazier came in third to earn eight points for Team USA, giving them 28 total points, two ahead of the ROC.
China took the pairs segment as Sui Wenjing and Han Cong barely beat out Mishina and Gallimov by two-tenths of a point to place them third with 21 points, one point ahead of Japan, led by 2018 silver medalist Shoma Uno.
Ukraine was unable to field a skater for the men's short as Ivan Shmuratko tested positive for COVID-19. The same occurrence befell Germany as Nolan Seegert in the pairs segment. Both nations will not advance to the free skate.
The women's short program is Saturday night with the ROC's Kamila Valieva the overwhelming favorite. Following that, the top five teams will return with the men's free skate as Vincent Zhou is expected to replace Chen for Team USA.
The full standings are as follows:
1. Team USA, 28 points,
2. Russian Olympic Committee, 26 points.
3. China, 21 points.
4. Japan, 20 points.
5. Italy, 18 points.
6. Canada, 16 points.
7. Georgia, 15 points.
8. Czech Republic, 12 points.
9. Ukraine, 4 points (eliminated)
10. Germany, 3 points (eliminated)