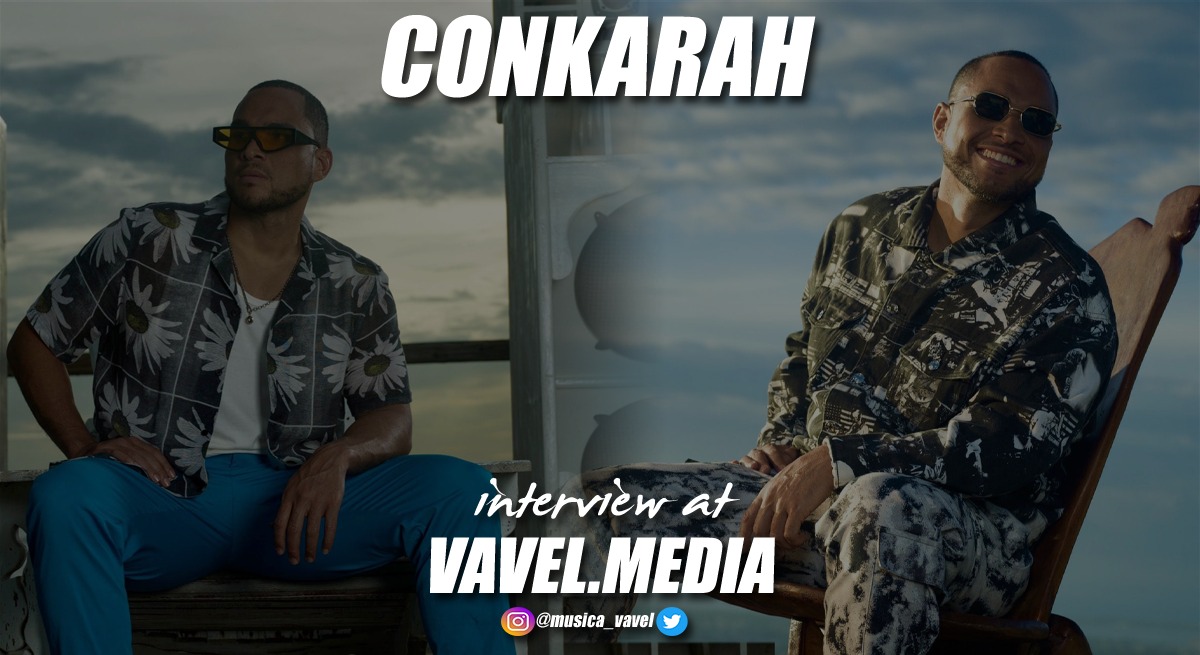 Once more, social media and platforms have shown to be an essential tool for the success of our artists' songs. Even the most distracted people on new technologies have danced "Banana". This song, written by Conkarah and whose inspiration comes from his trip to Colombia, exceeds 25 million views.
The artist told us in the following interview how did he live the release of his single as well as his plans for the future and the strategies he is thinking to use through Tik Tok, the social media that put everybody dancing.
Question: Firstly, what about your lockdown? What have you been doing? Have you been able to do music or have you rested?
Answer: I'm actually in Miami, in America. There hasn't been much about the lockdown. I have just been recording in the studio. I was almost every day writing songs. So, it was good!
Q: For those who don't know who you are, Who is Conkarah? How would you define yourself?
A: I'm an artist. I'm all about good vibes and positivity in my music. My goal is just to keep making music that moves people and for people to enjoy it. That's pretty much who Conkarah is.
Q: How and when does music arrive in your life? Do you have any influences? Which ones?
A: I love all different types of genres, so I like Bob Marley, Amy Winehouse, Red Hot Chili Peppers… As far as inspiration it can be just the sunshine in one morning and it inspires me to write something, so I get inspiration from all over, everywhere. There is no real definition of where I get the inspiration from.
Q: Was music always your first option? What would have been your job if the music wasn't alive?
A: Well, I started music around ten or eleven years ago, maybe. Before that, I had my degree in University for Broadcasting. So, maybe something to do with film or video, that would have been my direction.
Q: How long have you been working in this industry? When do you consider that you became a recognized singer?
A: I've been doing this for about, as I said, ten years, and the first time I got recognition would have been maybe 2014. I had a song called "Island Girl" that went pretty big in the Pacific islands so from then it just has been slowly growing.
Q: Do you think that nowadays your name is where it should be?
A: Probably not yet but we are working on it.
Q: Previously to your own music, you released some covers. Do you think they were useful to start your career?
A: Yes, a hundred percent because I would do popular songs in a reggae style and it would bring people to my original music and so... It was a very good way for me to introduce myself as a musician, so it helped a lot.
Q: Which was the moment that you realized as the perfect one to start releasing your own music?
A: I was between releasing covers and my own music. Now for sure, I want to focus on releasing my original music.
Q: Let's talk about its big success, how was "Banana" born? Which was your inspiration for the lyrics?
A: I was actually in Colombia, Medellin. I got so inspired in Colombia that I wrote so many songs and this was one of the songs I wrote so... I really have to say 'thank you' to Colombia and all the inspiration that I got from the country, you know.
Q: How was the recording with Shaggy? What does it mean for you?
A: Well, it was interesting because we were in different countries so he recorded his part in New York. I had never met him before in my life. I remember going to one of his concerts when I was a lot younger, and, you know, we were at the back [of the place], and now, to think that I have a song with him it's really cool.
Q: How much Tik Tok influenced your career? Do you think that without this social media "Banana" wouldn't have had such success?
A: I definitely have to give props to Tik Tok because, you know, that was the whole trend that started on popularity. I can't say whether or not the song would have done well without Tik Tok, but Tik Tok definitely helped and I really appreciate, you know, social media and its platforms. They play such a big role in music.
Q: Once you have seen the glow up this song had in Tik Tok, have you planned some strategies in order to show your music via this social media?
A: Yes. We've seen success with Tik Tok. We definitely look at tips as how we can use this to advantage to release new music and to get recognition. It's a very useful tool Tik Tok.
Q: Let's speak about "Everybody Switch", which expectations do you have on this single?
A: We just put good vibes behind the music and just hope that everybody enjoys it. We just see where we go from there, you know.
Q: You play instruments such as guitar, do you compose your own tracks?
A: Sometimes I do or maybe I just lay down and do a demo on guitar or piano, and then, I let the professional producers go on from there (giggles).
Q: You have traveled around the world and you have lived in places like the USA or London. Do we see or listen to the culture of these cities in your music?
A: Yes, sure! For example, when I was in Colombia I did a song with a group called Providencia and we did a collaboration together. I did a collaboration with a group from Costa Rica, which was really cool. So, I always go to these different countries and try to get a piece of the culture and represent it in my music. So, when I go and perform in these countries, I usually ask for a local band to play for me. And so, I searched for a local band on the plane… It's always a good vibration, you know.
Q: Which importance do these experiences develop when it comes to growing up as an artist?
A: It's definitely all a growing experience. I have to be very grateful for all these opportunities and the opportunity to be able to travel and to meet, you know, amazing people, great food and great music. A lot of people would love to travel, and so, I always encourage people to travel as much as I can because it just opens your mind to the world and it's a beautiful thing.
Q: Which are your dreams in the short and long term?
A: I just want to do well for my family and to make sure everybody is comfortable and to hopefully continue to travel the world. I really enjoy what I do making music and spreading good vibes. I hope that would be the exact same thing in the very near future.
Q: Do you see yourself singing in another music style different from Reggae?
A: Yes, I actually have a lot of songs right now that I'm working on with some really cool reggaeton artists because I love reggaeton, so... We should look forward to that soon.
Q: What do you think about singers of reggaeton, like Farruko, who introduce in their songs reggae's rhythms?
A: I love it. I love all the music that they make: Farruko, Maluma, Bad Bunny, Natti Natasha, Becky G… I love what they do musically and influence on reggae music and Jamaican music in reggaeton. It's really cool! I love it!
Q: To conclude, who would you like to collaborate with in the future?
A: I'd love to collaborate with Farruko, Maluma, Bad Bunny… Any of those artists, you know. Maybe even Drake, we'll see, you know (giggles). I love to listen to different artists and I really enjoyed the collaboration, so I think they could be cool.