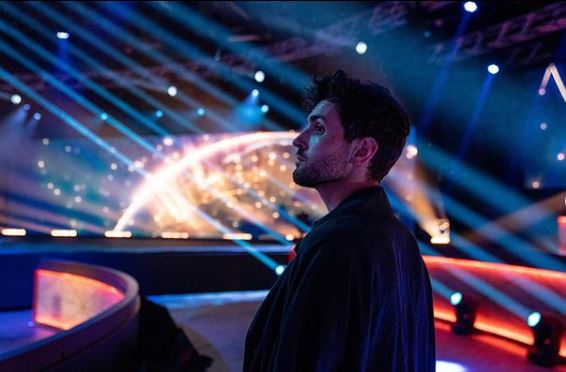 It's a year ago today.
Today marks the first anniversary of the moment when a young Dutchman won the 64th Eurovision Song Contest edition on one of the tensest nights. Neither the jury or the televote considered him the winner, but the sum of the votes allowed Duncan Laurence to raise the glass microphone at the last minute and claim his country's fifth victory.
His life changed completely. Duncan went from being a contestant on The Voice of Holland to becoming almost a national hero. He spent the summer touring numerous European festivals, even opening for James Bay. And, in the winter he went on a small tour around Europe. Between festivals and concerts, Duncan was traveling to Los Angeles to create the beginning of his career.
And all thanks to the trampoline that was exposing himself to millions of people on the longest-running show on television. And thanks to his godmother Ilse DeLange, a Dutch contestant in 2014, who bet on his song and encouraged him to participate.
Almost a year later, five days before the anniversary, Duncan Laurence presented his first EP: "Worlds On Fire", a small appetizer for what will be the first album, which, as confirmed to the Dutch media a few days ago, was still in progress.
In the meantime, Duncan has released this EP, which largely represents what he is ready to offer to music from now soon. There are five songs, two of which were already known: "Arcade", the song that gave him the victory in the Eurovision Song Contest 2019, and "Love Don't Hate It", which he released after the summer. This one, in contrast to the Eurovision ballad, shows his more energetic side.
In addition to these two songs, he added another three new ones: "Yet", an indie-pop song that surprises with its change from piano to acoustic guitar, an instrument that was not yet known in his music. The same happens with "Beautiful", the second new song that also plays acoustic guitar and follows the indie-pop style that seems to be marking its way. And finally, "Someone Else". His new single was born as a lyric video along with the EP.
"Someone Else" was featured on the special show that replaced the Eurovision gala, canceled for the first time in its history. In the "Eurovision Shine A Light", the Dutchman was invited to sing this song live in acoustic, on the piano, making an intimate and magical presentation:
Duncan Laurence celebrates the anniversary of his Eurovision victory with "Worlds On Fire". And with it, he opens a new path for the arrival of his first studio album. Duncan Laurence begins in the world of music.