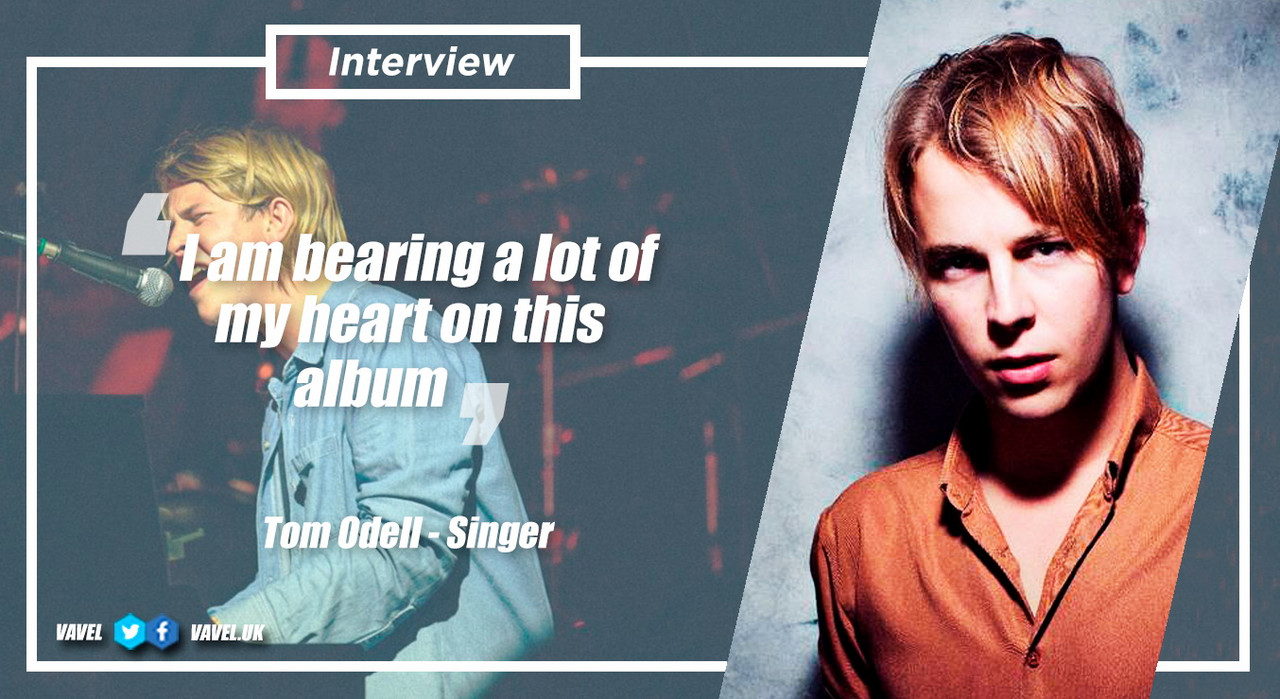 British singer and songwriter Tom Odell came to Spain to present his new album "Jubilee Road", which was released last October 26th. During his brief stay Madrid we had the opportunity to have a few words with him and nothing was left behind, he spoke about his new album, the tour, his concerts in Spain and much more.
Question: Your last album, "Jubilee Road", was released less than a month ago. Are you happy with the audience and fans reaction to it?
Answer: It is bizarre because I don't really know. I guess the reaction I get is about the live shows and that seems to be good. It's funny though with records, I have made three now, I find that it takes a bit of time for people to get their heads around it and it's funny that I only now see the songs from the second album, "Wrong Crowd", the ones that people really like. I only really see now on this tour because they've lived with them for a little while. I think I am the same with records as well, it takes me some time to really listen to a record properly and get to know it. So I think it might be a bit early to know.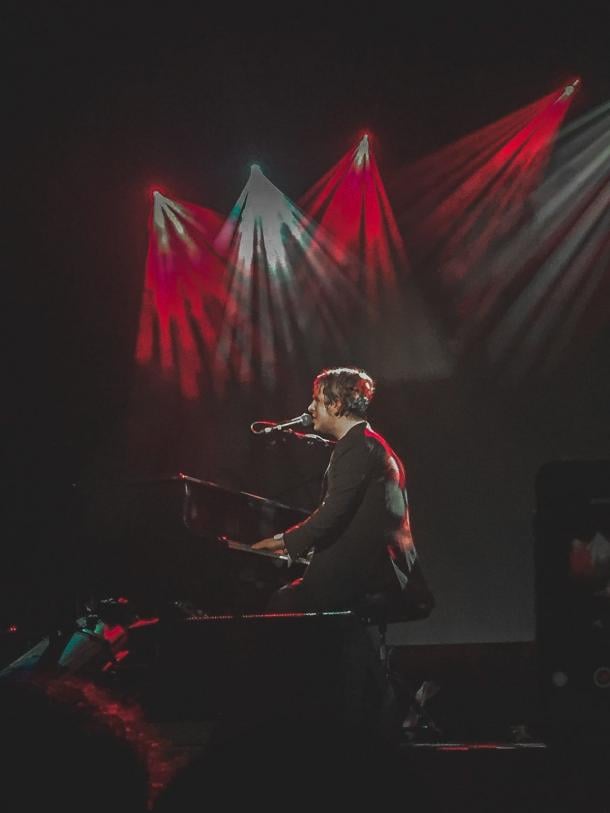 Q: How would you describe the album to someone who hasn't listen to it yet?
A: I am not sure. I don't really spend too much time thinking about that kind of stuff because I am always thinking about the next things. But I think it's very lyrical, the lyrics I would say lead it and also it is very much about the voice and the piano and how the two play with each other. I would also say that it is sentimental, it's about the songs, it's very much about the songs. I think it's an album you need listen a few times to really get it.
Q: Which song means the most to you and why?
A: They all do to a certain degree. By the time it gets to the point of recording an album I've written quite a few songs so the songs that end up selected always need to be very special to me. I need to really care about these songs. So I would say I do care about them all and they all mean a lot to me. There are some that probably mean more and some that mean less. For example, "You Are Gonna Break my Heart Tonight" is very sad to me because it's about a very painful memory. But at the same time, there is a sort of melodic element in "Queen of Diamonds" that melodically feels very close to home, I don't know why, and that makes it feel very special to me too. And then for example "Wedding Day" is about my sister. I am bearing a lot of my heart on this album.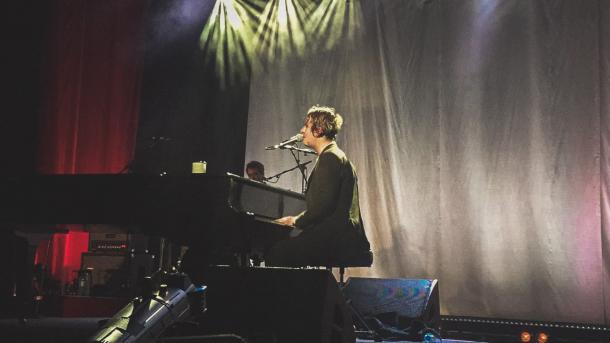 Q: Which song was the hardest to finish and how long did it take?
A: "If You Wanna Love Somebody" was the hardest song to write on the album and in some ways it's the simplest song. It took me a good few weeks to finish it. I often take quite of a time with songs once I know it's going to be a song that I'll use. I spend a lot of time honing it and writing the lyrics, I write lots and lots of lyrics just to make sure I am being the most economical with my writing and that I am saying the most within those words. So I always have several drafts, like a book, first draft, second draft and so on.
Q: What do you enjoy most about the song writing process?
A: It is a total scape. It's something to get my teeth stuck into and I would be mad if I didn't have it. I mean just this morning I woke up thinking about this song idea I had and I wrote some lines down for it. It's just nice to be moving forward with it. I am already excited about the songs on the next album.
Q: Where do you mainly find inspiration to write new songs?
A: I think in lots of places. I am really into John Updike, the American author who died a few years ago, he is one of the great writers of all time. A few months ago I got quite obsessed about watching interviews of him because he is one of the greatest of last century and this century and there is always film interviews with him. What Updike said when he got asked that question was that the inspiration for him is love of life. It is what any great writers respond to, it is because they love life and they are fascinated by it.
I think it is the same to some degree for me, I can name millions of specific things but it could be the tiniest thing that inspires a song, and it doesn't have to be any music or art, it could be a conversation, the colour of this (pointed to a flower in the table). I think it's driven by insatiable thirst for life. I really think life is a wonderful thing, so I try to find meaningful things that fascinate me and I write about them. Writing new songs is interesting but it is also hard and that is why it is a little bit of relief for everybody.
Q: Some years ago you said you had a writer's block. How did you overcome it and did it ever happen again?
A: I had a big one when I was like 21 or something like that, I couldn't write for months. I think that it was slightly because it suddenly became my job and I had always been just doing it as a hobby and then somehow I had this record deal. But I would say that these days I don't get a prolonged period of writer's block, it's more a like I get stuck on things but that can happen lots. I have a slightly more sort of a meditative approach to it now, I try to not get too frustrated if it's not working and I do try to move on now rather that torturing myself like I used to torture myself a great deal with one idea and why is not working, I would really set myself mad on most occasions. But nowadays I hold my mental health and my happiness in a slightly higher degree.
Q: You've been on tour presenting Jubilee Road for the past two months or so. What do you like the most about being on the road and what do you really don't like about it?
A: It's very extreme being on the road and it's certainly not dull, I wouldn't call it boring and boredom is something that has always been a great enemy of mine. So that's good. The traveling is very exciting although one can be fooled they are having more excitement just because you are in a new place every day. I love traveling, I like seeing new places, I think it's very inspiring but it's also very tiring and increasingly I have to make sure I look after myself to some degree because I think for many years I didn't and now I think it's important. If I really want to keep going I have to look after myself.
Q: How does it feel like to go on stage and listen to the crowd singing your songs?
A: It's great, it's pretty nice and it always puts a smile on my face. It makes me feel proud.
Q: This year you went on tour before you released the new album, so I guess in the first shows people wouldn't know the new songs…
A: Yes, people would just listen, but that's fine though. I like that as well. Sometimes is well, sometimes at concerts people don't really want sing along, because they kind of want to listen. It's only in certain situations when people sing along. I don't do it so I won't hear them sing, I want to perform the songs myself and it can be nice at some moments.
Q: Which is the song you enjoy the most performing live?
A: I really enjoy the new one "Son of an Only Child", which is on the new album. That's pretty much my favourite song to perform at the moment because I think it's so different from the rest of my songs and it just got this lovely joy to it which is really fun to play and it's a nice release because the set is in general terms very intense, and it comes at a nice time.
Q: Now you have a little break until after Christmas and then hit the road again in Europe and North America. Looking forward to that second leg of the Jubilee Road Tour?
A: Yes, definitely, I can't wait. But I am also looking forward to the next few weeks. You know, I can go home, I have a place in London and it would be nice for someone to live in it for a little while. I am also quite excited because this morning I decided I'm going to buy a new piano. Because it's my birthday on Saturday and I have wanted to buy it for a while.
Q: How did you enjoy finishing this leg of the tour here in Madrid on Tuesday night?
A: It was great and it is very exciting to be here in Spain. Each time we came back we play in a bigger venues and it feels like it is so growing over here. It is not being one of our main places we come to tour but it feels like we might have to come back more often and I really like the idea of that. We have been talking to the promoter and we might come back next summer. I really have this love of Madrid and Barcelona; I have only been to those two places but I would love to explore more Spain. I really would like to spend more time in this country. The times I have been over here have been great, the food and drink and people. I said it last night at the concert, I would like to come back for many years and I really meant it. I would love to.
Q: Going a little bit back in time, how was it like to play as Elton John's support act in 2013?
A: It was fantastic; he is a hero of mine so it was just amazing. He's been very supportive of my music as well which has been great. I'm thrilled by that. I'm so sad but excited for the farewell tour that he's doing.
Q: Some years ago you got a lot of popularity in the UK playing the John Lewis Christmas add and this year is Elton John doing it. Did you already have a chance to see it?
A: I haven't seen it yet but I'd like to see it, apparently this year it's very good.
Q: Would you tell us some funny anecdote about something that happened on the road or on stage?
A: Well last night me and James (his manager) went out to a southern music club after the show and like did some dancing. It was quite empty this place, well it was Tuesday night, but it was good fun though. I like that sort of southern music, the dancing is traditional. It was really fun I really enjoy it; I didn't really get any sleep until like 5 or something.
Q: To finish, did you ever find that car you bought with your first wage that got stolen?
A: No, never found it.