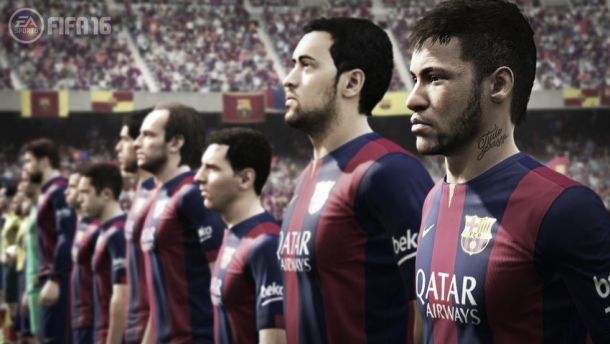 It's that time of year again. E3 was on show for all avid gamers to enjoy, and during proceedings, the official gameplay trailer for next year's edition of FIFA was released.
In the past, it's fair to say that FIFA has its critics. Year upon year, people question if there are any actual improvements to the game itself, because they have been unable to solve the root of their actual problem by addressing current issues which continue to bug gamers to the max. This include frequent server issues, Ultimate Team frustrations, and the ever-growing disappointment as EA struggle to come up with new and innovative creations to add spice to a game with no real competition. Pro Evolution Soccer has done well in its time, but despite Konami attempting to up their game in the past year or two, they are nowhere near on the level in which you can compare the two franchises.
With that being said, it was not time for comparisons. It was time to watch. Watch on, we all did indeed, as the fresh FIFA features, news and updates continue to roll out every summer with the promise of a new and exclusive title coming out in the Autumn months.
The trailer itself was a sly teaser. A fitting voiceover, with a legendary figure such as Pelé talking as the gameplay unfolded before our eyes. The specific emphasis on beautiful football, as well as showing sleek stadiums across the world including the Nou Camp, Stade Vélodrome, Signal Iduna Park, the Emirates, Old Trafford and the Bernabeú clearly wet the appetite of football lovers, even before the short, snappy clips were shown.
In FIFA 16, women's football will finally be included. After years of assumptions that football is a male-dominated sport, the female side is gradually starting to pick up in terms of value and importance, which is especially crucial to note during a World Cup year, being played in Canada. Hope Solo, Alex Morgan and Sydney Leroux of the USA amongst others feature in snippet parts, a signal of intent that it's a collective game to be played across the world for both men and women.
A few tasty sliding challenges, mixed with celebrations and crowd interactions regardless of the weather, are just a few neat features which make the game so fun and unpredictable to play, from a gaming perspective. Of course, it is a game, but over time FIFA have developed an engine which is closely imitating real-life football, and if only they could fix their bugs and glitches, they'd have a perfect working model on their hands - a cash cow if you will.
Suspenseful, stunning, spinetingling. The rule of three utilised to describe the beauty of the moment by Pelé, with FIFA being able to encapsulate all of the exciting moments and snippets into a teaser - making it that much more of an agonising wait to buy the game itself when released.
Manchester City's creative midfielder David Sílva skins his marker on the edge of the area with a cheeky body feint without touching the ball, a new addition to the game which has been proven effective as a general skill move in real-life over the past few months. He unselfishly squares the ball to his club team-mate Sergio Aguero, who tees himself up for a bicycle kick before floating his strike into the top corner of the net - beyond a helpless Tim Howard who makes an acrobatic diving save attempt but can only watch as the ball flies into the top corner in some style: a goal anyone would be proud of.
Harry Kane thumps a fierce looking shot one past north London rivals Arsenal, who ironically rejected the English forward when he was a youth growing up in the club's system - and now he's working wonders with Spurs and being linked with a move elsewhere in Europe after a breakout season in the Premier League. Cristiano Ronaldo slams a header past Diego Alves, Robert Lewandowski is involved with an aerial challenge to win the ball against his former employers Borussia Dortmund, whilst Atlético Madrid get in touch with their rather-physical style of play when it comes to breaking up possession in midfield - a key component to them beating big sides in Europe over the past few seasons.
A few sly moments from real-life added in there, too. Yannick Bolasie, notoriously known for his ridiculous arsenal of dazzling tricks, flicks the ball past Christian Eriksen within an instant, something he did in a Premier League fixture in the 2014-15 campaign, which went viral across the internet overnight. Diego Costa and Jordan Henderson tussle in an off-the-ball incident, just as they did in the Capital One Cup semi-final earlier on in the year, after the former was involved in separate altercations with a few Liverpool players, including Emre Can and Steven Gerrard. Then, the most recent one. Lionel Messi, who has deservedly earned his status as arguably the best footballer in the world, ever, accelerates past four Athletic Bilbao players in an extremely tight area of the pitch before slamming a low drive home in their Copa del Rey final - just a month ago.
The new tagline? FIFA 16: Play Beautiful. We will all be eagerly awaiting its release on September 24th (UK), to see just how beautiful the game we all know and love really is.