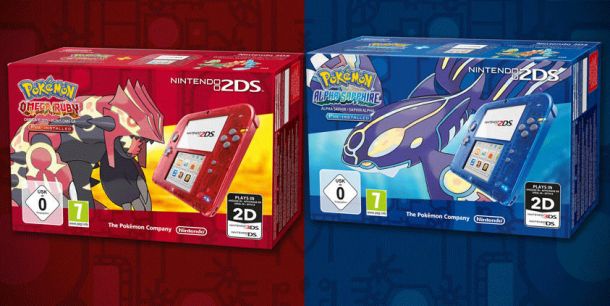 Some new Pokemon news this week has revealed that Pokemon Omega Ruby and Alpha Sapphire will each have unique transparent 2DS console bundles, released with the games pre-installed in the UK. The bundle has a choice of the two games with the colour of the console differing depending on the game choice, with the Omega Ruby choice coming in a transparent red while the Alpha Sapphire option gives a transparent blue choice. There has been no news on whether the bundle shall be released in any other country just yet
That isn't the only announcement though, as Nintendo also revealed that players in Europe have the opportunity to play the Omega Ruby and Alpha Sapphire demo from October 15th. The location to obtain the demo differs depending on the country as it can only be obtained through a code received at certain stores from the list published below:

Belgium
-F.A.C.T.S Festival in Ghent (Oct. 18 - 19)
-Nintendo On Tour Mall Tour

Italy
-Topolino (end of October)
-Focus Junior Magazine (early November)
-Fieramilanocity (Oct. 24 - 26) (Nov. 21 - 23)
-G come Giocare's Nintendo Stand (October 24 - 26)
-Il Giornalino Magazine (end of October)
-Milan Games Week

Netherlands
-Pokémon First Look event (Oct. 11 - 12 or during autumn tour)

Portugal
-El Corte Inglés
-FNAC
-IBERANIME OPO 2014
-Libson Comic Con Games Week
-Media Markt

Switzerland
-Swiss Toy Fair (Oct. 1 - 5, codes not redeemable until the Oct. 15)

United Kingdom
-Amazon
-Bin Weevils
-GAME
-Nintendo Life
-Nintendo UK Official Store
-ShopTo
-Smyth Toys Superstores
-Wikia

There has been no news yet on the release date of the demo for Japan or North America, but seeing as the game comes out on th 21st November for Japan and North America and then one week later on the 28th November for Europe then this might be seen as a way of Nintendo trying to please the European fans; due to the fact that they shall receive the game later than the North American and Japanese audience.