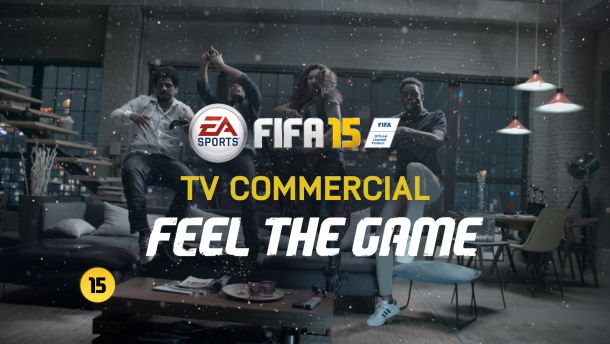 Hello again everyone and welcome to my very first video game piece. It was confirmed earlier on in the week that the official TV advertisement for the upcoming football title FIFA 15 had been released, and avid gamers scrambled to look.
And it wasn't a disappointment. The ad starts with the traditional layout of different teams, including Premier League sides Chelsea and Liverpool walking out of the tunnel as they prepare for the start of the game and the different camera angles panning on different stadiums across the world. Commentator Alan Smith says "you can feel the tension in the air" as many different faces (most probably gamers) are sitting in pods and acting as though they are actually playing alongside some famous faces, even though they are sitting at home playing the game itself.
Official UK cover star and Chelsea's Belgian playmaker Eden Hazard takes a costless-kick in the rain from distance, then it's time for the wall to jump. The wall jumps, with 4 real-life faces jumping at the exact same time in slow motion (how did you guess?). Then, PSG striker Zlatan Ibrahimovic does a few skills, Barcelona play their tiki-taka style, a few crunching tackles are made and the cover star Lionel Messi scores an overhead kick past Manchester City goalkeeper Joe Hart into the back of the net with a cacophony of different sounds of emotion (both happiness and dispair) etched on the faces of the gamers getting heavily involved with the game.
It's always very exciting at this time of the year when a new FIFA title is released - many different creative ideas are thought of and EA do their best to try and appease their huge fan-base. Having said that, a lot of their gamers have complained over the past few years about the amount of maintenance work that is done on the servers; yet they are still inconsistent and faulty at the best of times.
For example, you could be in the middle of a must-win game, winning 3-0 and in the last minute GONE. The server disconnects you from the game, and all your progress is lost. So why does everyone stay with FIFA then, you may ask? Well. There isn't much competition; with PES the only real alternative which the majority of gamers absolutely loathe. Because of this, EA don't have anyone in the football gaming industry to compete with - so they can take their time...
The ad itself is a good piece of marketing by EA don't get me wrong - and it's exciting to see this type of video so close to release day. If you like FIFA, this advert will make you want the new game as soon as possible. Epic advert. Hopefully the game will live up to the potential, because overall FIFA 14 was a let down in truth.