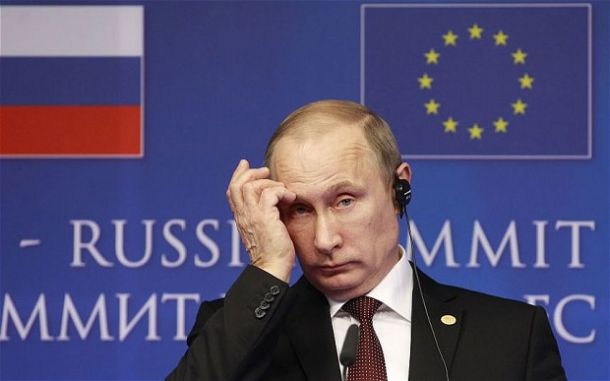 These new set of sanctions have been imposed on a range of areas, from people to companies, with Russia saying they will retaliate.
The sanctions have been imposed due to the continuing conflict in Ukraine, despite a ceasefire being in place. However, the measures could be eased or even lifted completely if it holds. Russian Foreign Minister Sergei Lavrov accused the EU of "taking a path towards undermining the peace process." Lavrov explained that Russia "will react in a calm and appropriate way, first and foremost, proceeding from the need to defend our interests".
Ukraine's President Petro Poroshenko said "I never felt before this level of solidarity." Speaking in at a press conference in Kiev, just after the measures had been put in place, he explained: "I feel myself a full member of the European family. There is not any military solution for this crisis, and we should keep Ukraine united. And for keeping united my country we should make some decentralisation of power."
Some of Russia's biggest and most well-known businesses have been hit by the sanctions, meaning the rouble has fallen to a new low against the dollar and also against the euro (37.57 to the dollar). Growth estimates for 2014, amid plunging stock market and rouble values, have been greatly revised and could see Russia ban Western airlines from entering it's airspace.
Three major Russian state oil firms were hit: Rosneft, Transneft and Gazprom Neft, the oil unit of gas giant Gazprom. The sanctions have hit their financial markets, restricting them in terms of 'raising long-term debt' and also in regard to 'new contracts in oil drilling, exploration and related services in Russia's Arctic, deep sea and shale oil projects', said Sky News.
Transneft and Gazprom should be able to deal with the measures, but it is a serious matter for Rosneft. The company, who BP have an almost 20% stake in, asked the Russian government for a $42bn (£25.2bn) loan last month, meaning it could also hit British interests. Big Russian state-owned banks will not be obtain loans lasting longer than a month, and from garnering other financial services in the EU.
The US has already cut-off five Russian financial groups, in July. Meaning: VTB Bank, Gazprombank, Bank of Moscow VEB and Russian Agriculture Bank were barred from US equity and debt markets. Rumours are circulating that Washington could also enforce these measures on Sberbank, Russia's largest bank by assets, tightening the restrictions on the big six banks.
Barack Obama backed the EU's measures: "We are implementing these new measures in light of Russia's actions to further destabilise Ukraine over the last month, including through the presence of heavily armed Russian forces in eastern Ukraine," Obama said. "If Russia fully implements its commitments, these sanctions can be rolled back. If, instead, Russia continues its aggressive actions and violations of international law, the costs will continue to rise."
These aren't the only sanctions applied, with twenty-four Russians having travel bans enforced and their assets frozen. Businessman Sergei Chemezov, who now runs arms firm Rostec, MP Vladimir Zhirinovsky, Donetsk separatist leader Alexander Zakharchenko, Luhansk separatist leader Gennady Tsypkalov and politician Igor Lebedev. "This brings the total of persons subject to sanctions to 119 while 23 [Russian] entities remain under asset freeze in the EU." said the EU Council.
The EU and US have accused Moscow of directly aiding pro-Russian separatists in Donetsk and Luhansk, the reason behind Tsypkalov and Zakharchenko's sanctions. This ranges from sending soldiers across the border to sophisticated weapons, including tanks. Moscow has, unsurprisingly, denied the allegations. NATO say Russia is still keeping around 20,000 troops near the Ukrainian border, with a further 1,000 troops on the ground in Ukraine.
Russia are expected to hit-back at the measures. Along with a possible ban for Western airlines in the Russian airspace, a move that Russian Prime Minister Dmitry Medvedev has said, "could drive many struggling airlines into bankruptcy." A wide-ranging embargo on food imports from the EU is already in place on: fruit, vegetables, meat, dairy produce and other important foods. Further sanctions on cars, specifically second-hand, and lightweight industrial goods could also face quotas.
Quotes from the BBC, Sky News and the Guardian.