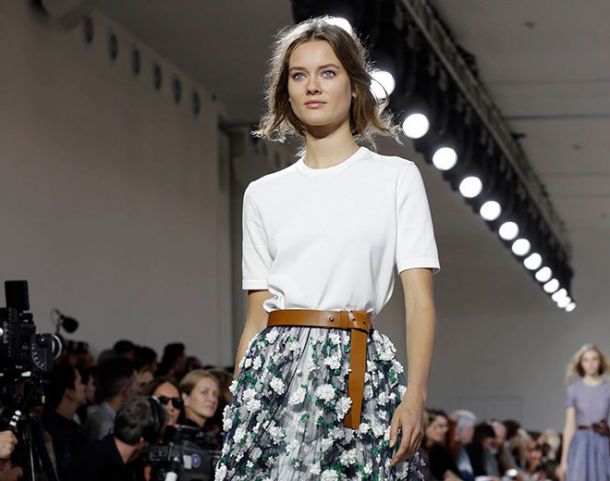 Home to 900 fashion companies, Mayor Bill de Blasio describes the Big Apple as the 'fashion capital of the world' and of late, New York has definitely captured the attention of the fashion world as New York fashion week gets underway. Among many other designers such as Victoria Beckham, Vera Wang and Marc Jacobs showcasing their most recent collections, Michael Kors debuts his collection for Spring 2015.
With feminine, simplistic motifs running through Michael Kors' collection there is a prevalent sense of the 1950s inspiration echoed throughout his spring catwalk debut. The opening all white ensembles are the complete embodiment of sophistication and elegance as they are embellished with feminine, soft fabrics that hang loose to give a flattering silhouette. Progressing from all white, Kors then begins to add pops of colour which at first are gently introduced through delicate floral patterns that perfectly compliment the feminine cut and style of the clothing. Furthermore the a-line skirts and fitted waists reiterate the 1950s style that resonates throughout the collection. Kors also introduces subtle hints of gingham and culottes to makes his pieces wearable for the modern woman.
Following his progression into the introduction of colour, Kors finishes his line with black ensembles that are complete with flattering cuts and shapes to echo the femininity shown through his previous pieces. All of Kors' outfits are effortlessly accentuated with simple yet stylish accessories, predominantly cross body bags. The models' make-up was kept minimal and their hair were styled in simple, loose plaits to channel the 'all American style' that he and his clothes are famous for.