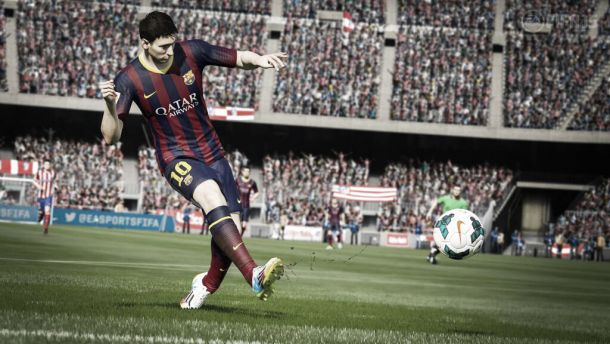 1. The game is a much improved model from the previous year's edition
Obviously, you would expect that to be the case given the fact that if you would have spent in excess of £45 for a new game, you'll want it to be unique and much better than the last year's edition, otherwise what's the point? There is more of a focus on build-up play and passing, as well as overall tactical exchanges to help win games. The animations make the game look more realistic, adding authenticity as you are playing - a neat bonus feature that they've added.
2. With that being said, there are still underlying problems involved
As with every game, there are always problems. And although FIFA is the best football video gaming franchise in the world currently, that is probably because they do not have any stiff competition. PES, their closest rivals, do not deserve to be in the same sentence as EA's current game – and it has been that way ever since PES 06, arguably one of Konami's best ever editions.
EA however struggle to realise 90% of their problems, which seem to be a constant issue with the game. If they took time out to address the issues, the game would have major improvements to both the players, and the company in terms of profit.
3. Servers and overall connection is very inconsistent
"The EA Servers are not available at this time." – "We're sorry but there has been a problem connecting you to the EA Servers, you will be returned to the FIFA 15 Main Menu."
I'm pretty sure that I come across one of those pop-up messages whilst in a game/browsing a menu almost every time I play the game. And I can't even begin to describe to you how annoying it is. I could be winning a game 4-0, and with 5 minutes to go until I win the league title, I'm disconnected from the server and all my progress is lost. I understand that due to the demand, there will be millions of people attempting to connect at the same time, but surely you would have a way of counter-acting that? The rage is real, stop apologising and just fix it please EA.
4. Momentum and questionable refereeing are just two of the biggest issues that need resolving
Questionable refereeing. Wow. The amount of incorrect/silly decisions that the referee manages to give in 90 minutes of football in FIFA is ridiculous, especially in an game! I'll give you a great example. I loaded up the game, finished the updates and got ready for my first EVER match on FIFA 15 – playing as Arsenal against Tottenham in the traditional north London derby.
I was absolutely smashing the AI, (on world class difficulty I should add) and one way or another it was 0-0. Eriksen wins the ball near the centre circle, drifts past one of my players and Flamini comes out of nowhere with a great sliding tackle, winning the ball and everything.. The commentator Martin Tyler even said this: "What a super tackle there, as Arsenal clear the danger." Then moments later, the ref blows his whistle for a costless-kick. 30 yards out, and guess what? Lamela scores (I started laughing at this point). Most of what's wrong with the game in a nutshell.
Momentum is single-handedly one of the most annoying things when it comes to gameplay itself. I could be playing an Ultimate Team game, and comfortably winning 4-0 with 25 minutes to play. The opponent isn't very good at the game itself, and I'm rightfully destroying his team with my neat finishes past his goalkeeper. Then, he makes a cheeky substitution and replaces one of his players with another, who just happens to have 90+ pace. First minute his sub player is on the pitch, he somehow manages to run the whole length of the pitch with the ball, skill up my defenders and score. Now 4-1, and the result is not confirmed yet, so I'll play slightly more tentatively.
AGAIN, from kick-off, I take the ball and start up my passing game.  He finds a way to win the ball albeit fouling my player and the referee turns a blind eye; he goes one-on-one with my goalkeeper who stands static as though he has forgotten how to play, and scores. Then, he comes back from 4-0 down to beat me 5-4 in the dying seconds of the game. Cue the rage.
5. The game on next-gen is MUCH better than on current-gen consoles
Next-gen consoles have been out for almost a year now, and they have been the vocal point of gaming ever since the PS4 and Xbox One were released. With that being said, there is a stark contrast between next-gen and current-gen, with the game looking sharper and gameplay seeming smoother on the newer consoles as opposed to the older models. EA managed to grab a licensing deal with all 20 of the Premier League clubs to use gameplay faces and the actual stadiums, which is both exciting and intriguing for the supporters.  Not to mention more animations, real-life advertising boards and actual fan chants…. So why is the current-gen slacking? Well, it seems as though the companies obviously want you to go and buy their newest consoles, to enjoy the game to the fullest! Annoying, huh. So yeah… buy it on Xbox One/PS4 or you're missing out.
---
Although I've just literally picked apart most of the negatives (and positives...) attached to this game, I would recommend it to any football fan because it's the best out there currently. You need a lot of patience, because I didn't have any I would have sold it a long time ago! And, if you can, get it on the next-gen consoles for a better overall experience. Trust me on that one.